---
NEW WEEKLY FRIDAY OPEN MIC at RUBY'S GRILL in Mississauga
                               STARTS APRIL 10 2015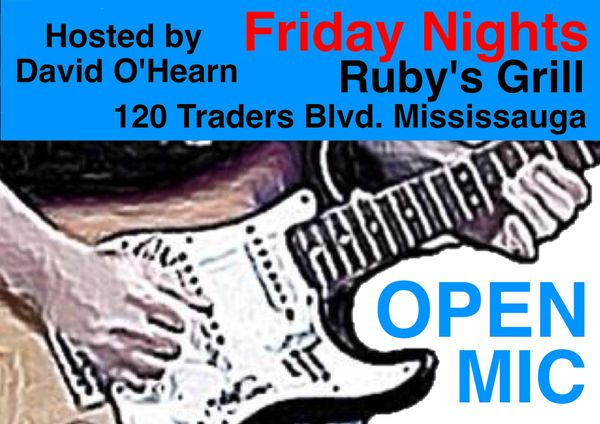 Details HERE   (Friday nights from 7-10pm)
Friday nights just got more fun! My NEW weekly Open Mic starts THIS FRIDAY from 7pm-10pm at Ruby's Grill.
Pictures from Open Mic Nights
Videos from Open Mic Nights
---
PLEASE NOTE: Open Mic at the Bristol has ceased, effective Oct 2014.
Thank you to the all the performers for their support.
Once I have a new home for our Open Mic, I will update the information here.
THANK YOU !!

Open Mic at The Bristol begins Wed Aug 14 2013A Weekly Open Mic Night at The Bristol starts Wednesday Augist 14 2013.
The Bristol is located at 512 Bristol Rd. West Unit #15, Mississauga, Ontario L5R 3Z1 Phone: 905-890-2500
Music starts at 9pm -- Sign Up starts at 8pm.
    Sign up and more information
here
.
Pictures from Open Mic Nights
Videos from Open Mic Nights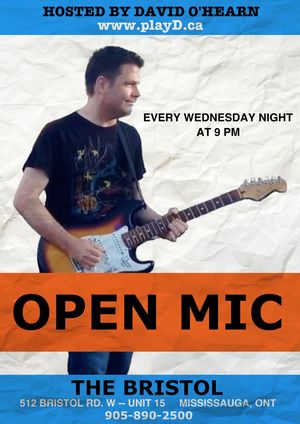 My goal to provide a fun and entertaining environment for aspiring (and established) artists to come out and showcase their talents. If you sing or play an instrument, this is the place to be. You'll get a chance to perform, meet other artists and get noticed. Even if you don't play or sing, come out to listen to some of the amazing talent here in Mississauga, Brampton and the surrounding area.
Open Mic Wednesdays will run from 9pm to midnight each Wednesday. To be fair to all the performers, each slot will be 3 songs (or 15 minutes) and these slots will be allocated via a sign-up sheet. If time permits, you may be able to sign up for a second slot. I will start the evening off with a few songs, to get everyone "in the mood", then the other artists will take to the stage.
PA system, an amplifier, a keyboard and a couple of microphones on stands will be provided, along with assorted percussion instruments (shakers, tambourine, etc.). Please bring your own instrument. This will be primarily an Open Mic Night (not an Open Jam), so please be prepared to accompany yourself or bring a friend to do so. That said, if the performer is cool with other people getting up to help them, that's fine, too!
I'm really looking forward to hosting these nights and making it "the place to be" on Wednesday evenings. Tell your friends, bring them out and let's have a great time.
If you have any questions regarding the Open Mic Night, please contact me at info@playD.ca.
Web site:
www.playD.ca